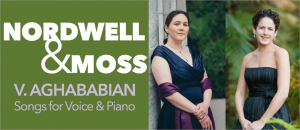 Featured song cycles:
An Amethyst Remembrance (2003)
When We Were Very Young (2002)
Three Dickinson Songs (2011)
Engineered by Mark Lemaire of Rubato Recording
Due for release in October 2018!
Receive a "sneak peak" digital copy of
Nordwell and Moss – Vartan Aghababian Songs for Voice and Piano
with your tax-deductable donation!
September 29 – Pacifica – 4:30pm
September 30 – Berkeley – 3pm
Mozart's Melodies with Ann Moss, Soprano and Hillary Nordwell, piano
Plus Mozart's Piano Variations on "Twinkle, Twinkle, Little Star"
Come relax after a sunny Pacifica day at Fog Fest, and delight in the drama and lyricism of Mozart's lovely vocal lines! This program runs the gamut, touching on sorcery, flowers, birds, and – of course! – LOVE (innocent, star-crossed, and simply frivolous)!
Ann Moss, one of our favorite featured Comfy
Concert performers, offers engaging interpretations, audience acting opportunities, and vocal mastery at its finest in this introduction to Mozart's art songs.
Also featured will be Hillary Nordwell's performance of Mozart's sparkling piano variations on a nursery tune we all know and love. As if that weren't enough, we will even have some surprise guest performances by a few young artists in the Comfy Concert family!
It's never too early – or too late! – for Mozart, so bring the whole family along for some glorious music!
November 11 – Pacifica – 2pm
Schumann's Carnaval, Op. 9
Hillary Nordwell, piano
Robert Schumann's musical portraits – masks, if you will, of those he knew and loved.
December 9 – Berkeley – 3pm
December 16 – Pacifica – 2pm
A Holiday Celebration with seasonal favorites for Piano Trio and a sing-along of your favorite Christmas and Hanukkah tunes!
Justin Ouellet, violin
Robin Reynolds, cello
Hillary Nordwell, piano
February 3 – Pacifica – 2pm
February 9 – Berkeley – 4:30pm
Paul Schoenfield: Cafe Music
Erica Ward, violin
Lucas Chen, cello
Hillary Nordwell, piano