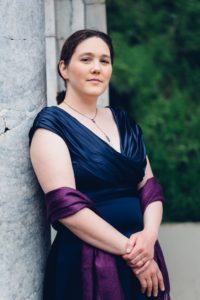 Recent Concerts:
August 21-24, 2023
Massachusetts, USA

Ann Moss, soprano
Justin Ouellet, viola
Hillary Nordwell, piano
Piano Trios by Women Composers of France and America
May 13-14, 2023
Bellevue and Kirkland, Washington
Emily Herdeman Kelly, violin
Megan Titensor, cello
Hillary Nordwell, piano
Louise Farrenc's large scale Piano Trio in E-flat, written in the classical style, will delight and intrigue audience members. The trio  was composed by the virtuoso pianist in the years before she was appointed Professor of Piano at the Paris Conservatoire, a prestigious position despite the pay difference between Farrenc and her male counterparts. Eventually Farrenc's demand for equal pay was met, and she stayed in this position for 30 years.
Jennifer Higdon's Pale Yellow and Fiery Red offer a deep dive into the intersection between music and color. Higdon was influenced at an early age by rock and folk music, and had little exposure to the classical music world until she joined her high school band, playing percussion and flute. She rose quickly in the compositional world through her college and graduate school studies and until recently served on the composition faculty at Curtis Institute of Music. Her Letters for the Future album won a 2023 Grammy Award.
Amy Beach's Piano Trio, Op. 150 is at turns meditative and invigorating, and always imaginative and Romantic. Beach was among the earliest American-educated women to find success as a virtuoso pianist and composer. After her husband's death in 1910, she spent several years in Europe, where she was also greeted with acceptance and appreciation for her music.
Lili Boulanger's D'un matin de printemps ("Of a Spring Morning") was one of the final pieces she completed during her tragically short life. She died of intestinal tuberculosis at 24, while her sister Nadia Boulanger went on to become one of Europe's most celebrated composition teachers and lived until age 92. D'un matin de printemps is an energetic and blustery welcome to spring!
Florence Price's Art Song "Night," arranged for piano trio by the Merz Trio, lends a calming farewell to our program. Florence Price, an extremely gifted and hard-working African American composer born in 1887, overcame a great deal of discrimination and adversity to bring her works to the public.